Whiteboard.fi is proud to announce the release of the latest version of our digital whiteboard platform, designed to deliver the ultimate classroom experience for confidential teacher-student interaction and formative assessment. This new version of Whiteboard.fi is published and in use, and we're excited to share the new features with you.
New features and major improvements
One of the most requested features by our users is the ability for students to continue working on their slides at a later time. With this new version, students can now use a session-specific link to return to previous work, making it easier than ever to pick up where they left off. In addition, we've also added multiple single-sign-on login methods, including Kahoot, Google, and Clever, so students can easily log in and access their work.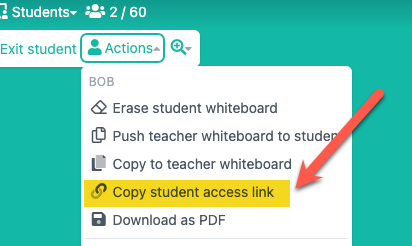 Another new feature is the focus mode, which allows teachers to capture their students' attention when needed. This feature is perfect for situations where students need a little extra help focusing on teacher instructions. Additionally, teachers can now pre-load content to student whiteboards as students enter a session, making it easier to prepare for class in advance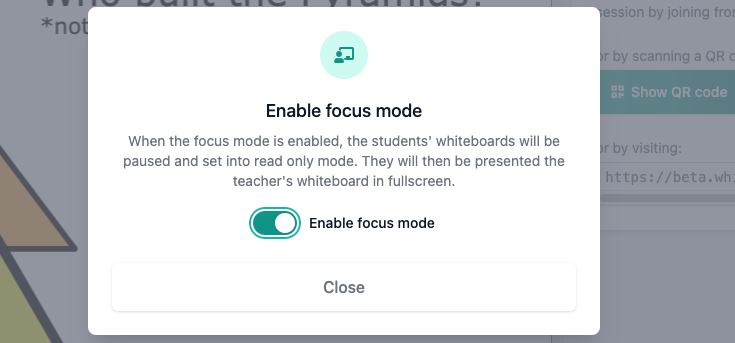 We've also made some changes to the user interface to make it more user-friendly and customizable. The workspace, including the toolbar, has been streamlined and repositioned, and you can now easily slide and resize whiteboard spaces. The new design offers more room for creative work. New session options make it easier to manage your session expiration, taking into account data protection and security issues.
Rooms vs. Sessions
The new version uses the term "session" instead of "room". By default, each session has a predetermined expiration time, and any content within the session is automatically deleted upon expiration. A session that has not been ended or deleted by the teacher and has not yet reached its expiration date is considered an active session. Depending on the plan in use, the expiration time can be extended at any time.
Assignment sessions for asynchronous interaction
The assignment session is for asynchronous interaction, where the teacher prepares slides beforehand and then opens the session for student submissions. After the first student enters, the teacher can no longer edit or add slides (= "exercises"). The contents in assignments automatically expire after 6 months of inactivity.
List of major new features
Students can continue working on previous whiteboard sessions at a later time
Teacher focus mode, freezes and takes over the student screens with teacher content
Multiple single-sign-on login methods; Kahoot, Google, or Clever
The ability to pre-load content to student whiteboards as students enter a session
Rearrange and copy whiteboard slides, toggle slide visibility
Save and download all student whiteboard slides as ZIP files for easy organizing
A new user interface with customizable workspace sizes. More room for creative working
Technology updates enable an even faster workflow with instantly updating whiteboards.
Improved assignments feature; monitor student progress, set deadlines, etc.
New administrator functionalities for schools and districts
New plans
In addition to all the new features, we're also excited to announce that we'll be introducing new plans to accommodate the needs of different users. The biggest difference between these new plans is the number of students that can participate in a session.
Free alternatives – We want to make sure that everyone has access to Whiteboard.fi, which is why we're continuing to offer a free version. Additionally, we will now also offer a registered free plan. This plan requires registration but offers a larger student limit and a few additional options to keep your sessions more secure when compared to the unregistered free plan. It's a great option for those who want to try out Whiteboard.fi before committing to a paid plan.
Lite plan – A new plan, designed for smaller classrooms or individual teachers. This plan is more affordable and allows for a limited number of simultaneous users. This plan is perfect for those who just need the basic features of Whiteboard.fi and don't need the full capabilities of the platform.
Pro plan – Designed for larger classrooms and schools. This fully featured plan allows for a larger number of simultaneous users. With this plan, you'll have access to all the features of Whiteboard.fi, including the ability to pre-load content, the focus mode, and the ability to save and download all student whiteboard slides as ZIP files. This plan is perfect for those who want to take full advantage of all the capabilities of Whiteboard.fi.

Premium plan – Designed for larger institutions that require even more capabilities and support. This plan includes a longer session expiration, premium support, and an even higher student limit, making it ideal for schools and universities that need to accommodate a large number of students in a single session. With this plan, you'll get a dedicated support team and many other customization options.
Overall, we're confident that these new plans will meet the needs of different users. Whether you're in a small classroom, a large school, or a university, we have a plan that will work for you. So, take a look at our new plans and see which one is right for you.

Whiteboard.fi/pricing
Tech updates
Finally, we've made some updates to the technology that powers our platform, making the workflow even faster with instantly updating whiteboards and alleviating issues with users on less than ideal connectivity. This means that you can now work more efficiently and effectively, making it easier to redirect learning and address misconceptions on the run.
Overall, Whiteboard.fi is a powerful and versatile platform that will help teachers and students interact and collaborate. With its new features and improved user interface, we're confident that the new version of Whiteboard.fi will make a huge impact on the classroom experience, and we can't wait for you to try it out.
Good to know when navigating the new teacher dashboard
As you begin using the new version of Whiteboard.fi, there are a few things to keep in mind:
Regular active classes/sessions are automatically transferred to the new version and can be found under live sessions. This means that you won't have to start your classes from scratch, and you can continue where you left off. Any old or expired classes will not transfer.
If you're using Clever, you can set up your Clever classes by starting a new session and choosing the Clever Only option. This will allow you to use your existing Clever classes to set up sessions by selecting the preferred clever class from the drop-down menu. See further instructions here
Assignments that you've created in the old version will transfer over to the new version as saved whiteboards. You will find the assignment whiteboards in the library in a specific old assignments folder. You can then start new assignment sessions using the content.
We hope this information is helpful as you begin using the new version of Whiteboard.fi. If you have any questions or need further assistance, please don't hesitate to contact our support team. We're here to help!
Useful links :