Whiteboard.fi is a go-to tool in Maureen's language classroom!
Maureen, a language teacher at Kingswood Oxford School in Connecticut, tells us about her experiences with Whiteboard in an article she wrote for FLTMAG.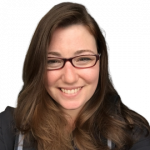 "In spring 2020, on a tight budget, I had to figure out a way to replicate the many activities I did with students in my Latin classes using individual mini whiteboards in class, but with a digital tool. I was so grateful when I found Whiteboard Fi. It exceeded my expectations in every way as both a whiteboard and as a tool for sharing with my students quickly, and it is free or low cost."
Among advantages in using Whiteboard.fi, Maureen lists the ease of use, the fact that the teacher can see her student's whiteboards instantly, and that she can edit her board without affecting student boards while students are working on theirs. She also likes the fact that the teacher can give feedback to students in the form of comments or symbols.
Maureen's students get to benefit from Whiteboard.fi in multiple ways as she uses the platform as a tool for formative assessment as well as for listening and drawing activities, general fun activities, and quick reflection sessions where students get to share their thoughts on the day's topics and what they potentially have found challenging. This is a great way to get spontaneous feedback and will help pinpoint areas that may be collectively challenging for the group or individuals within.
Read Maureen's full article complete with great examples, many ideas, and suggestions: https://fltmag.com/whiteboard-fi/
Maureen has also published an inspiring webinar she did on Whiteboard.fi
The recording contains great ideas and useful tips on working with Whiteboard.fi.
Find it here: https://www.youtube.com/watch?v=8B8ImX5SylY
You can also follow Maureen on twitter @latintechtools